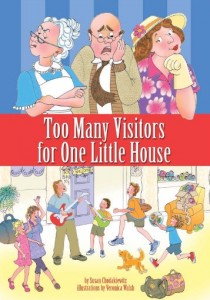 Paperback: 40 pages
Publisher: BookSurge Publishing (February 11, 2009)
ISBN-10: 1419654705
Source: Publisher
The people of El Camino Street enjoy the peace and quiet.  They don't like kids, people with big families, or pets. They enjoy spending their time enjoying the peaceful things in life. A new family moves in, a new family with three kids and a pet fish.  Still, their peace and quiet seems to go on uninterrupted. 
Then suddenly, a giant camper pulls up in front of the new family's home, a camper that took up half the block.  People start streaming out.  It started with three teenage cousins.  The neighbors shook their heads in astonishment and say "Too many visitors for one little house!" But family members continue to come out of the camper and each time they do, the neighbors respond with the same comment. All together, fourteen people (and a wandering stray dog!) arrive and enter the new family's home.  The neighbors are in an uproar! They don't appreciate all the noise that comes along with this many house guests!
But on their way to filing a complaint with the city's complaint department, they are greeted by the Mom, holding a plate of Nanny's apple strudel!  They are invited into the family's home and instantly remark: "There are never too many visitors for one little house!"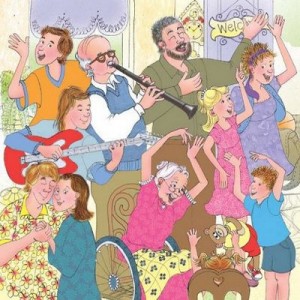 My boys LOVED this book!  The illustrations, done by Veronica Walsh, were very colorful and vivid.  They enjoyed the repetitive text "There are too many people for one little house" and enjoyed repeating it each time a new group of visitors entered the house.  My four year old son, Justin, liked counting the guests as they arrived. My oldest son, John, thought Grandma, with her prune juice, and Grandpa, with his rolls of toilet paper and plunger, were downright hilarious!  So, kids of varying ages each take away something different from this hilarious tale!
About the Author:  Susan Chodakiewitz is a writer, composer and producer. She is the founder of Booksicals Children's Books- Encouraging the love of reading through the arts. Through her company Booksicals she has created the Booksicals on Stage literacy program which is currently presenting musical performances of the picture book Too Many Visitors for One Little House at schools, libraries, and special events.
Susan lives in Los Angeles in a lively household filled with music, three sons, a husband, a Dalmatian and lots of visitors. Susan loves picture books and when she wrote a musical based on one of her favorites, she realized it was time to start writing her own picture books. Too Many Visitors for One Little House is Susan's debut book. You can visit her website at www.booksicals.com.