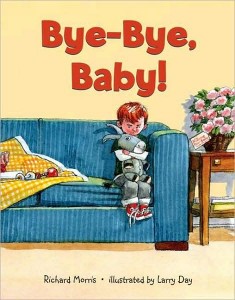 Reading level: Ages 4-8
Hardcover: 40 pages
Publisher: Walker Books for Young Readers (September 1, 2009)
Language: English
ISBN-10: 0802797725
Felix is not happy, not happy at all.  His Mom and Dad are bringing home a baby sister.  Before he even meets her, he has decided he doesn't like her.  Afterall, he already has his best friend Poncho (his stuffed Donkey), why would he need anyone else?
When his parents bring home his baby sister, he wants nothing to do with her.  She goes to bed late and wakes up wailing every morning.  Felix believes his parents should just take her back!
One day, Felix and his parents (and yes, unfortunately his little sister too!) go to the zoo. Felix LOVES the zoo. As they walk along, he devises ways of getting rid of his sister.  For example, the elephant is big enough to sit on his sister and the giraffe's neck is long enough to place her up in a tree where she can never bother him again.
Felix loves the zoo so much he doesn't want to leave.  He cries the entire way home!  His parents can't seem to quiet him.  And then, his sister hands him his best friend, Poncho, and his tears stop.  How is it that the thing he despises so much could understand what he wants? He then discovers that his baby sister isn't as bad as he made her out to be!
I read Bye-Bye, Baby!
to both of my boys: John (10) and Justin (4).  To be completely honest, John has entered the phase in which he can't stand his brother.  Justin gets on his nerves in a matter of seconds.  We remind John that Justin simply enjoys spending time with his big brother and that he should feel special that Justin cares for him so much.
Well, after we read Bye-Bye, Baby! we talked about John and Justin's relationship with one another.  John was a bit different than the character in the book, Felix.  John loved Justin as soon as he saw him (he was in the delivery room) and cherished his sweet little brother.  It wasn't until Justin was able to walk into his room (and steal some of his toys) that we had a problem.  We discussed this, and how much nicer it would be if the two of them got along.  I think it had an effect on him, which you can see in his mini-review below.
John's Review:
I think Felix was being a little too rough on his baby sister.  When they went to the zoo, Felix was crazy with all these ideas.  I know his parents were trying to do everything to stop him from crying but it didn't work.  Now he knows, when you have a baby sister, you must always give her a chance.  And now YOU must do the same with YOUR brother or sister!
Do you sense a bit of guilt there?
My review:
The author, Richard Morris, did an outstanding job of portraying a very series subject among young children: the arrival of a new sibling. He puts it in a format and language that young children can easily understand.  Each page has very elaborate illustrations (by Larry Day) and a small amount of text, so it does a good job of holding a young child's interest. While neither one of my children have to be worried about another child coming into our house, it allows them to realize that siblings are there for one another, to help them when they need it. I highly recommend this book for any family getting reading to add a child into the family or, as in my case, a family with siblings that sometimes don't get along.   John, Justin, an I really enjoyed reading Bye-Bye, Baby! We keep it in our "Bedtime Reading Bin" and reach for it very often!