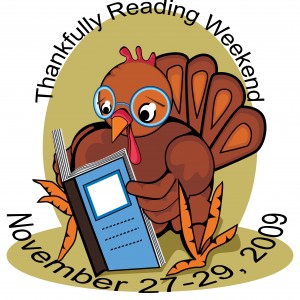 Let me tell you, Twitter is a dangerous place!  I tweeted that I planned on having my own mini readathon over the Thanksgiving holiday.  We won't be having any relatives visiting and it will be just me and the rest of the J-Crew that weekend.  What a better time to get a ton of reading done? Afterall, once Thanksgiving dinner is over, what else is there to do? Watch football? I don't think so!
After I tweeted my plan, several other people (including  Candace from BethFishReads Jen from Devourer of Books ) indicated an interest and the ball went rolling from there.  Candace, Jen and I decided to make it official and have therefore come up with Thankfully Reading Weekend!
When: Friday, November 27-Sunday, November 29
Why: Three full days off=quality reading time!
How: Read at your leisure during the Thanksgiving weekend.
There are no rules to the weekend and no prizes. We're hoping to devote a good amount of time to reading and perhaps meeting some of our reading challenges and goals for 2009. We thought it'd be fun if we cheered each other on a bit.  
We'll also be checking in on Twitter using hashtag #thankfulreading. Join in for the weekend or for only a single day. No rules, no pressure!
 If you can't join us,  have no fear: Bethany of Dreadlock Girl is hosting an official Read-a-thon on December 5 and Michelle of GalleySmith is hosting a "seriespalooza" (an event for catching up on your book series) later in December.
 To sign up for Thankfully Reading Weekend, please visit the Book Blog Social Club  now!