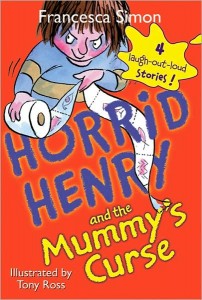 Reading level: Ages 9-12
Paperback: 112 pages
Publisher: Sourcebooks Jabberwocky (July 1, 2009)
ISBN-10: 1402217765
Source: Publisher
As with the other Horrid Henry books, Horrid Henry and the Mummy's Curse
is made up of four hilarious stories about Horrid Henry's antics.
My ten-year old, John, and I decided to do a joint review of the title story The Mummy's Curse.
In Horrid Henry and the Mummy's Curse, Henry is doing what he does best-being horrid and getting into trouble.  Since he is unable to share his toys with his younger brother, Perfect Peter, Henry has been banned from playing with Peter's toys. Typically, that's not a problem for Henry.  Who wants to play with Peter's childish, baby toys?  Well, that changed when Peter won a "Curse of the Mummy" kit from the museum.  It came with a plastic body to mummify, mummy wrapping gauze,  a curse book, amulets, and removable mummy organs!  What little boy wouldn't love this !?
Perfect Peter soon finds Horrid Henry in his room and threatens to tell on him. But Henry convinces Peter that he's not stealing his toy, but trying to protect him from the Mummy's Curse, the curse that turns people into a mummy.  At first Peter doesn't believe Henry, but he is convinced after a hilarious exchange with his Mom:
"Mom, " said Peter, "Henry says you are a mummy."

Mom looked puzzled.  "Of course I'm a mummy," she said.

"What?" said Peter

"I'm your mummy," said Mom,  with a smile.

Peter too a step back.

"I don't want you to be a mummy," said Peter

"But I am one," said Mom.  "Now come and give me a hug."

"No!" said Peter

"Let me wrap my arms around you," said Mom
Peter is certain his Mom has been mummified. He asks Henry to help him remove the curse.  Henry insists they must wrap Fluffy, the cat, in the sacred bandages (toilet paper) so he can be a messanger between this world and the next.   Peter, too, must be wrapped and remain silent for thirty minutes. Henry begins chanting the "sacred spell"
"By the powers of Horus, Morus, Borus and Stegosaurus!"
But before the spell can be completed, Henry is discovered by his Mummy, I mean, Mom.  He is grounded from the TV for a month, but since Peter no longer wanted anything to do with his mummy kit, Peter had free reign!
My Review:
Francesca Simon, author of the Horrid Henry series, does another outstanding job with this one! Each of the four stories are long enough to tell a good story, but short enough to keep the attention of my two boys.  They love to hear about what sort of trouble is getting into next.  My oldest, John, is still convinced he's Perfect Peter and his younger brother, Justin, is Horrid Henry.  Justin doesn't seem to mind!
As I've mentioned in the past, the Horrid Henry books are perfect for any child, boy or girl, in the 7-10 age range. But they are particularly great for reluctant readers. The stories and characters engage them and the text isn't challenging.
So, like in the past, I HIGHLY HIGHLY recommend this, or any of the Horrid Henry series!
John's Review:
I think Henry is a little crazy for telling Peter that their Mom was a Mummy!  He acts like Justin (John's younger brother), telling you things that are not true.   Horrid Henry was so good at convincing Peter that he was telling the truth. When his Mom said that she was a mummy, she really meant a "Mommy" so that was a little confusing.  Henry was so rude to wrap up Peter and Fluffy!
I liked this story because I think mummies are interesting.  But I don't think Henry's punishment was good. It was a good punishment for Henry to lose his TV privileges, but it wasn't fair that he still got to play with the mummy kit!  If I had done something like this to Justin (I wouldn't Mom, I promise) I would definitely get in a lot more trouble! I'd like lose my privileges for a MONTH!
Stay tuned for more reviews from John!  He's starting to receive his own review requests, so he's pretty excited!