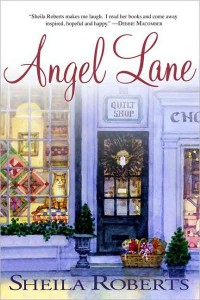 Paperback: 352 pages
Publisher: St. Martin's Griffin (September 29, 2009)
ISBN-10: 0312384823
Source: Publisher
Heart Lake is a small, quiet lake-side town.  It seems to be experiencing a bit of growing-pains, however.  Citizens are no longer courteous to one another and it's beginning to loose its Mayberry feeling.
The three main characters (Jaime, Sarah, and Emma) are local shop owners and close friends.  They decide to come up with a way to bring the "heart" back into Heart Lake.  Each of them decides to do one good deed a day in the hopes that their actions influence those of others, a sort of pay-it-forward campaign.
In the midst of this campaign, each of the main characters are experiencing their own personal drama. 
Jaime, Sarah's niece, works at the town's chocolate store.  She moved to Heart Lake to get away from an abusive marriage.  She's in no rush to get into another relationship.  However, when she crosses the path of Jake Armstrong, a widower raising two young girls, her world is upended.  She's proud of her independence and doesn't want to get hurt again. But Jake is hard to resist. 
Sarah is experiencing serious grandchild withdrawl after her daughter's family moves away.  She's been a part of their lives since they were born and their absence is noticable.  Her good deed is to provide cooking classes to a handful of the young girls in town.  Her efforts seem to be in vain when one of her students takes advantage of her kindness.
Emma feels like a failure when her beloved quilt shop fails to take off.  She has a handful of customers, including one who always seems to forget her checkbook, and Emma has allowed her to create a pretty hefty tab. Will hard work ever pay off?
 Have you ever picked up a book, start reading it, instantly falling in love with the characters?  That's what happened when I started reading Angel Lane
.  I became wrapped up in the characters lives within the first few pages.  Roberts writes a very inspiring tale of how the actions of three individuals can influence an entire town.  My life has been very hectic for the past few weeks, but the citizens of Heart Lake provided me with a bit of peace.  And I'd be remiss not to mention the delicous recipes listed at the end of the book. I will definitely be trying out a number of them, specifically the one for pumpkin cookies!
I don't like to compare one author's writing to another's, but I can't help but notice a similarity between Roberts' writing with that of Debbie Macomber.  Both women write inspiring tales revolving around a small-town community. Each have endearing characters that you can't help but fall in love with.
If you are looking for a relaxing, easy read, then Angel Lane
is the book for you. Now that I've finished reading it, I miss the characters. They really became part of my life. They've inspired me to pay-it-forward as well. I do hope the author has a sequel or a follow-up planned in the near future!
Thank you to Pump Up Your Book Promotion for giving me the opportunity to take part in this tour!