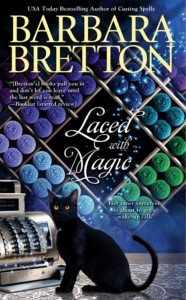 Chloe Hobbs is a half human, half scorceress living in the quaint town of Sugar Maple Vermont.  She's the de facto mayor of Sugar Maple and owns the town's knit shop, Sticks and Strings. On the surface, Sugar Maple looks like the typical quiet little Vermont town.  Out-of-towners who visit the town don't realize that the citizens aren't human.
A tenth-generation wtich owns the Cut & Curl across the street…The hardware store is run by the sweetest family of werewolves you'll ever meet.  The Sugar Maple Arts Playhouse is under the direction of shapshifters…Faeries keep the Inn's restaurant fully booked and…the town funeral parlor belongs to a happily married couple who happen to be vampire." (pg. 3)
The town's secret hidden is kept hidden from humans using a protective charm that protects the town as long as a female decendant of the Hobb family.  Chloe is that last female decendant.
I'd be remiss not to mention the background of the story. In Casting Spells
, the prequel to Laced with Magic
, a former Boston police detective,  Luke Mackenzie stumbles upon Sugar Maple after investigating the  drowning death of his friend Suzanne Marsden.  Prior to his arrival, Chloe was the only (partial) human to live in Sugar Maple.  Luke decides to stay in Sugar Maple after his investigation, and he and Chloe begin to date.  The residents of Sugar Maple aren't happy in the slightest.  Several weren't too fond of Chloe's "ethnicity" in the first place, so adding another human to the mix made things worse.
In Casting Spells
, Chloe uses her powers to banish Isadora, a Fae leader, from Sugar Maple.  And in Laced with Magic it appears as though Isadora has returned, attempting to regain her powers.
The town is suprised when yet another human enters Sugar Maple. This time, it's Luke's ex-wife Karen.  It seems that Luke is full of secrets, knocking Chloe off guard. Not only was he previously married, but he also had a daughter that died two years ago. Karen has tracked Luke down to Sugar Maple tell him that she'd been receiving phone calls from their dead daughter.
Chloe is floored. Not only must she protect the town from Isadora, she must also deal with the secrets Luke's ex-wife has revealed. Never did she realize that the two might be related.
Bretton does an outstanding job with her characters.  The book is written in first person,  and it jumps between between Chloe, Luke, and Karen every few pages.  This rapid change of view might be irritating and confusing to some, but I think it truly fueled the intensity of the storyline.  The reader sees what's happening through several different eyes. I didn't get a chance to read Casting Spells
prior to this, but Bretton gives enough background information that it's not required to be able to follow the new storyline.  I do plan on going back and starting from the beginning, however.  Without giving away too much, the ending will take your breath away, making it very apparent that a third book is in the making.
This book has everything, romance, fantasy, suspense.  Something for everyone. I highly recommend this one.  It's a quick read, I literally read it in one sitting!
Thank you to Pump Up Your Book Promotions for giving me the opportunity to take part in this tour!