My interview partner is Hilda from The Dip-Files.  Before we go into the interview, here is some basic information about her from her blog: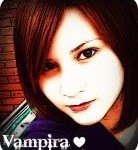 I'm a young Venezuelan girl living in Shanghai who has been lost to books. I love emerging myself into those crazy worlds only ingenious Authors can create and I am now exploring all the different genres of literature but remain faithful to vampire stories. I'm also an aspiring novelist and have just recently discovered the wonders of blogging. – – This blog is dedicated to bloody vampires because I just can't get enough of them! – –
Now that you have a little background information on Hilda, on to the interview!
Jenn: When did you begin blogging? What made you decide to create a blog?
Hilda: I started blogging not too long ago. About two months ago, actually. I had been following some book blogs and blogs of my favorite authors and I thought it would be a good idea to share my own experiences, too.
Jenn: Describe your blog in five words.
Hilda: New, bloody, bookish, experimental, red.
Jenn:  If you were stuck on an island which five books would you like to have with you?
Hilda: That's tough. The genres I read depend on my mood. This week I feel like reading Paranormal, but two weeks ago I was reading Romance. However I do have some faves I'd like to have with me. The Demonica Series by Larissa Ione, there goes three, Dead to the World by Charlaine Harris and Surrender to the Devil by Lorraine Heath.
Jenn: Name one book that has gone unrecognized so far that deserves more recognition.
Hilda: Shame by Jasvinder Sanghera. It's like an autobiography but it's an amazing story. Very touching.
Jenn: You obviously love vampire novels. Which one is your favorite?
Hilda: Phew, how to answer this. I love anything about vampire. Novels, TV Shows, movies, photos, anything. It's hard to choose one novel because each has something the other doesn't. It's pretty impossible for me to pick one. But Interview with the Vampire was my first vampire book, the one that got me hooked, so I guess it is my favorite. And I'm irrevocably in love with Lestat *grin*
Jenn: Who's your favorite Author?
Hilda: Uh, that's easy, if you've been following me you already know who it is. Larissa Ione. =)
Jenn: What's your favorite thing about the blogging community?
Hilda: The fact that I can read different points of view and different perspectives and it's like I experience their experiences along with them. It's also great to have and meet online buddies that share the same interests as me.
Jenn: What is the best thing you've discovered about the blogging community?
Hilda: Blogging is a constant learning experience. Whether it's books, movies, TV Shows, or simply life, you're always learning something new. I've learned that I have to be more dedicated in what I do in order to accomplish anything I wish.
Thank you, Hilda, for stopping by! Be sure to check out her blog later today to view my answers to her questions!