Earlier this week, I shared the first half of the March book releases I'm really excited about. As if you need any more recommendations, below please find the remaining titles on my most anticipated list of March book releases! As usual, I've included the publisher summary. Click on the book to preorder or to learn more!
The Outcast Dead by Elly Griffiths (March 11): Ruth Galloway uncovers the bones of what might be a notorious Victorian child murdress and a baby snatcher known as "The Childminder" threatens modern-day Norfolk in the latest irresistible mystery from Elly Griffiths. Forensic archaeologist Ruth Galloway uncovers the bones of a Victorian murderess while a baby snatcher threatens modern-day Norfolk in this exciting new entry in a beloved series. Every year a ceremony is held at Norwich Castle for the bodies in the paupers' graves: the Service for the Outcast Dead. Ruth has a particular interest in this year's proceedings. Her recent dig at Norwich Castle turned up the body of the notorious Mother Hook, who was hanged in 1867 for the murder of five children. Now Ruth is the reluctant star of the TV series Women Who Kill, working alongside the program's alluring history expert, Professor Frank Barker. DCI Harry Nelson is immersed in the case of three children found dead in their home. He is sure that the mother is responsible. Then another child is abducted and a kidnapper dubbed the Childminder claims responsibility. Are there two murderers afoot, or is the Childminder behind all the deaths? The team must race to find out-and the stakes couldn't be any higher when another child goes missing.


The Weight of Blood by Laura McHugh (March 11): The Dane family's roots tangle deep in the Ozark Mountain town of Henbane, but that doesn't keep sixteen-year-old Lucy Dane from being treated like an outsider. Folks still whisper about her mother, a bewitching young stranger who inspired local myths when she vanished years ago. When one of Lucy's few friends, slow-minded Cheri, is found murdered, Lucy feels haunted by the two lost girls-the mother she never knew and the friend she couldn't protect. Everything changes when Lucy stumbles across Cheri's necklace in an abandoned trailer and finds herself drawn into a search for answers. What Lucy discovers makes it impossible to ignore the suspicion cast on her own kin. More alarming, she suspects Cheri's death could be linked to her mother's disappearance, and the connection between the two puts Lucy at risk of losing everything. In a place where the bonds of blood weigh heavy, Lucy must decide where her allegiances lie.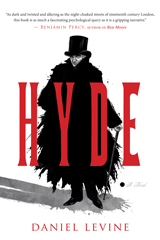 Hyde by Daniel Levine (March 18): A reimagining of The Strange Case of Dr. Jekyll and Mr. Hyde from the monster's perspective, Hyde makes a hero of a villain. As a bonus, Stevenson's original novel is included at the back. What happens when a villain becomes a hero? Mr. Hyde is trapped, locked in Dr. Jekyll's surgical cabinet, counting the hours until his inevitable capture. As four days pass, he has the chance, finally, to tell his story-the story of his brief, marvelous life. Summoned to life by strange potions, Hyde knows not when or how long he will have control of "the body." When dormant, he watches Dr. Jekyll from a remove, conscious of this other, high-class life but without influence. As the experiment continues, their mutual existence is threatened, not only by the uncertainties of untested science, but also by a mysterious stalker. Hyde is being taunted-possibly framed. Girls have gone missing; someone has been killed. Who stands, watching, from the shadows? In the blur of this shared consciousness, can Hyde ever be confident these crimes were not committed by his hand?
Missing You by Harlan Coben (March 18): It's a profile, like all the others on the online dating site. But as NYPD Detective Kat Donovan focuses on the accompanying picture, she feels her whole world explode, as emotions she's ignored for decades come crashing down on her. Staring back at her is her ex-fiancé Jeff, the man who shattered her heart—and who she hasn't seen in 18 years. Kat feels a spark, wondering if this might be the moment when past tragedies recede and a new world opens up to her.  But when she reaches out to the man in the profile, her reawakened hope quickly darkens into suspicion and then terror as an unspeakable conspiracy comes to light, in which monsters prey upon the most vulnerable. As the body count mounts and Kat's hope for a second chance with Jeff grows more and more elusive, she is consumed by an investigation that challenges her feelings about everyone she ever loved—her former fiancé, her mother, and even her father, whose cruel murder so long ago has never been fully explained. With lives on the line, including her own, Kat must venture deeper into the darkness than she ever has before, and discover if she has the strength to survive what she finds there.
You Should Have Known by Jean Hanff Korelitz (March 18): Grace Reinhart Sachs is living the only life she ever wanted for herself. Devoted to her husband, a pediatric oncologist at a major cancer hospital, their young son Henry, and the patients she sees in her therapy practice, her days are full of familiar things: she lives in the very New York apartment in which she was raised, and sends Henry to the school she herself once attended. Dismayed by the ways in which women delude themselves, Grace is also the author of a book You Should Have Known, in which she cautions women to really hear what men are trying to tell them. But weeks before the book is published a chasm opens in her own life: a violent death, a missing husband, and, in the place of a man Grace thought she knew, only an ongoing chain of terrible revelations. Left behind in the wake of a spreading and very public disaster, and horrified by the ways in which she has failed to heed her own advice, Grace must dismantle one life and create another for her child and herself.
I Remember You: A Ghost Story by Yrsa Sigurdardottir (March 25): In an isolated village in the Icelandic Westfjords, three friends set to work renovating a rundown house. But soon, they realize they are not as alone as they thought. Something wants them to leave, and it's making its presence felt. Meanwhile, in a town across the fjord, a young doctor investigating the suicide of an elderly woman discovers that she was obsessed with his vanished son. When the two stories collide, the terrifying truth is uncovered. In the vein of John Ajvide Lindqvist, this horrifying thriller, partly based on a true story, is the scariest novel yet from Yrsa Sigurdardottir, who has captivated the attention of readers around the world with her mystery series featuring attorney Thora Gudmundsdottir. Now, Yrsa will stun readers once again with this out-of-this-world ghost story that will leave you shivering.
Mind of Winter by Laura Kasischke (March 25): On a snowy Christmas morning, Holly Judge awakens, the fragments of a nightmare-something she must write down-floating on the edge of her consciousness.
Something followed them from Russia. On another Christmas morning thirteen years ago, she and her husband Eric were in Siberia to meet the sweet, dark-haired Rapunzel they desperately wanted. How they laughed at the nurses of Pokrovka Orphanage #2 with their garlic and their superstitions, and ignored their gentle warnings. After all, their fairy princess Tatiana-baby Tatty-was perfect.
As the snow falls, enveloping the world in its white silence, Holly senses that something is not right, has not been right in the years since they brought their daughter-now a dangerously beautiful, petulant, sometimes erratic teenager-home. There is something evil inside this house. Inside themselves. How else to explain the accidents, the seemingly random and banal misfortunes. Trixie, the cat. The growth on Eric's hand. Sally the hen, their favorite, how the other chickens turned on her. The housekeeper, that ice, a bad fall. The CDs scratched, every one. But Holly must not think of these things. She and Tatiana are all alone. Eric is stuck on the roads and none of their guests will be able to make it through the snow. With each passing hour, the blizzard rages and Tatiana's mood darkens, her behavior becoming increasingly disturbing and frightening. Until, in every mother's worst nightmare, Holly finds she no longer recognizes her daughter.
The Revenant of Thraxton Hall by Yaughn Entwistle (March 25): Arthur Conan Doyle is enlisted by a mysterious aristocrat to investigate a future death, one that her prophetic dream has foretold—her own. Arthur Conan Doyle has just killed off Sherlock Holmes in "The Final Problem," and he immediately becomes one of the most hated men in London. So when he is contacted by a medium "of some renown" and asked to investigate a murder, he jumps at the chance to get out of the city. The only thing is that the murder hasn't happened yet—the medium, one Hope Thraxton, has foreseen that her death will occur at the third séance of a meeting of the Society for Psychical Research at her manor house in the English countryside. Along for the ride is Conan Doyle's good friend Oscar Wilde, and together they work to narrow down the list of suspects, which includes a mysterious foreign Count, a levitating magician, and an irritable old woman with a "familiar." Meanwhile, Conan Doyle is enchanted by the plight of the capricious Hope Thraxton, who may or may not have a more complicated back-story than it first appears. As Conan Doyle and Wilde participate in séances and consider the possible motives of the assembled group, the clock ticks ever closer to Hope's murder.
So there you have it! The March books I am anticipating most! What books did I miss? Which books are you looking forward to most?