I received this book for free from the publisher (egalley) in exchange for an honest review. This does not affect my opinion of the book or the content of my review.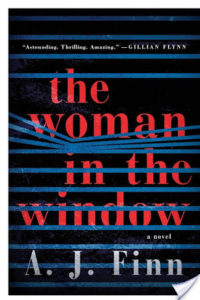 The Woman in the Window by A. J. Finn
Published by HarperCollins on January 2, 2018
Genres: Crime, Fiction, Psychological, Suspense, Thrillers
Pages: 448
Format: eARC
Source: the publisher (egalley)

Anna Fox suffers from agoraphobia; she lives her life as a recluse in her New York City home.  She spend her time watching old movies, day drinking, and spying on her neighbors.   Her interaction with the outside world is limited; all of her food, medication, etc. come by delivery.

When a new family moves in to the house across the street, Anna has something new to keep her attention.  The Russell's--mother, father & teenage son--seem like a wonderful family.  Then one night, she witnesses something horrific.  She's forced to rethink everything she's experienced.  Was what she saw medication- (and/or wine-) induced?  What is revealed, in expertly plotted layers, is absolutely shocking.
I intentionally ignored all the buzz about this book prior to reading it.  Books it is compared to often fall victim to the "pre-pub buzz" fate and I didn't want that to happen in this case!
I know it sounds quite cliche, but this is truly a thrill-ride of a read. We don't know much, if anything, about Anna, other than what she reveals to us.  We know something happened to her and her family, resulting in her agoraphobia, but the exact details are left out until well into the novel.
It takes quite a bit to surprise me; typically I can sense a big "aha" moment coming, yet in this case, I was completely unprepared.  I was thrilled that this author was able to sneak them in (yes, I said them…it's not just one) without me predicting them in advance.  While one big moment, in my opinion, is definitely more weighty and impactful, that doesn't take away from the lesser reveals.
I'm going to leave this review quite vague, for this is one of those reads that one must experience and examine on one's own.  I absolutely adored the Hitchcockian feel to the novel (and Anna's own obsession with the films!).  If you are looking for a well-plotted, intensely psychological thriller, this is the one for you.  Highly, highly recommended!