I received this book for free from the publisher in exchange for an honest review. This does not affect my opinion of the book or the content of my review.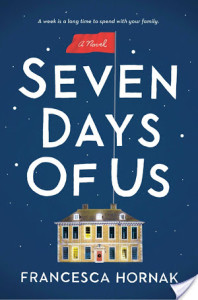 Seven Days of Us by Francesca Hornak
Published by Penguin on October 17, 2017
Genres: Contemporary Women, Family Life, Fiction, General, Humorous
Pages: 368
Format: eARC
Source: the publisher

This is the first Christmas in years that the entire Birch family will be under one roof.  This is a rare occasion for Emma and Andrew, to have both their grown daughters in one place. Olivia, a doctor, is usually in some foreign fighting some epidemic, but this year she'll be home.  It's not by choice, however.  She's just returned from treating the horrific Haag epidemic and is under forced quarantine for a week.  Her family is encouraged to do the same, so they've reunited at Weyfield Hall, the family's country estate.

For the next week, the Birch family is on lock-down, permitted from making physical contact with anyone outside the home. The weak WiFi signal exacerbates their feelings of isolation.  Each are focusing on their own struggles, but due to the isolation are unable to enjoy any sort of privacy in order to deal with them.  Andrew and Emma both have secrets that will turn the family's world upside down.  Youngest daughter Phoebe is fixated on her upcoming wedding, writhing in jealousy and irritation at Olivia's presence.

Without a reprieve from the quarantine, it's no surprise that the secrets rise to the surface, making this the most memorable Christmas in Birch family history.
Told in alternating viewpoints, this title is one of the most engaging and heartwarming books I've read in some time; the perfect book to read around the holidays.  Sure, many of us kid about the drama of family holidays and the insanity that ensues, but in many cases they are memorable reunions.  In the case of the Birch family, they have quite a bit of latent issues that must be resolved in order to deal with the secrets that are revealed.
Hornak does an outstanding job of developing her characters.  As each chapter is devoted to one of the family members, from their point of view, we get a realistic and accurate glimpse of their character and personality.  Hornak alternates between humor and drama (some pretty tear-jerking scenes, I might add), picking up on the genuine feel of this family.
This isn't a novel about a perfect family that has some challenges they overcome in just a matter of days, but one in which a truly dysfunctional family must come to terms with secrets that come to light that will ultimately change their future, their family dynamic, their outlook on life.  To me, this is the more realistic story. Captivating, humorous, witty.  A truly engaging read.  Highly recommended!