I received this book for free from the publisher in exchange for an honest review. This does not affect my opinion of the book or the content of my review.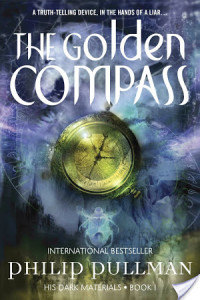 The Golden Compass by Philip Pullman
Published by Alfred A. Knopf on 2002
Genres: Action & Adventure, Fantasy & Magic, General, Young Adult
Pages: 399
Format: Paperback
Source: the publisher

Jenn's synopsis:



Lyra Belacqua is a witty, precocious orphan raised on the grounds of Oxford University. Her constant companion is her daemon, or familiar,  Pantalaimon.  Her carefree life is quickly put to an end after a series of events transform her fate forever.



Justin's synopsis:



Lyra is a young girl who is an orphan.  Her parents, so she believes, are dead.  She, and others around her, all have an animal partner.  They are unable to separate and they feel one another's pain.  The book calls them daemons, but to me they aren't any different than a pet you really love and care for.

She soon finds out that the life she thought she had is all a lie and she begins a trip to rescue young children who have been abducted.  We soon find out that Lyra's life a lot more important and valuable than anyone knew.
Jenn: I read this book when it was originally released and fell in love with the unique premise.  Justin first discovered this through the movie.  He's now at an age (11) at which I thought reading the book would make more sense to him, so we read it together and I gathered his thoughts below.
Justin:
I wish we got a little more information in the beginning of the book to help us understand this world Lyra lives in.  It was easier because I've seen the movie, but I really would have liked a little more explanation.  When I got more comfortable with the book and the sometimes difficult to understand words,  I really enjoyed the story.  My mom and I talked a lot about some of the issues people had with this book, some think it is religious and wouldn't let their kids read it. Sometimes I think parents think too much about things.  I didn't think that at all while reading this book.  Just let kids read and stop thinking too much about it. 
This was one of those books that I'm going to want to keep forever.  I didn't know it was part of a series, so I'm glad I know that now.  Even better, there is a new book coming out in the fall!  There is a teaser in this book, but I'm not going to read it because I'm going to want to read the book this moment and I can't.
I really enjoyed reading this book and I can't wait to read the rest of the series. I'm very excited about the new book, too.  I hope it's as good as this one!