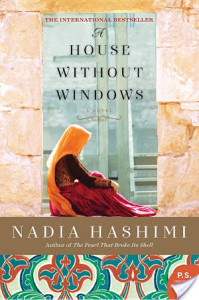 A House Without Windows by Nadia Hashimi
Published by HarperCollins on August 16th 2016
Genres: Contemporary Women, Cultural Heritage, Family Life, Fiction
Pages: 432

Zeba has lived a quiet life in her Afghan village.  This quiet life is shattered when her husband is found brutally murdered in the courtyard of their home. Worse is that she is found covered in his blood, refusing to explain what has happened.  Narrowly escaping her own death by a vengeful family member, she is sent to a women's prison.

There, she forms a friendship with her cellmates.  Nafisa has been imprisoned to save her from an honor killing.  Latifa, a runaway, uses the jail as a safe haven.  Young Mezhgan is in jail for "love crimes," falling for a man before marriage.

The man hired to represent her case is Yusuf, a man born in Afghan but raised in the United States.  His strong desire to help his homeland has led to his return, and to his acceptance of Zeba's case. Like so many come to understand, his client's situation is far different than what appears at face value.
What an emotional read!  I was intrigued by the premise of this book; as a reader of suspense and thrillers how could I not be.  What I didn't expect was the emotional investment that came with the reading of this book.  I was captivated by Zeba's story, not at all frustrated with her inability to relay what happened that afternoon.  For as I learned Zeba's story, I too learned the stories of the women in her life, her cell mates, about how Afghan women were treated.  When you learn the impact of what they endured, you feel sympathy rather than anger for the acts that led them to prison.
This story is Yusuf's as much as Zeba's.  He left Afghanistan to live a better life in the United States. Yet as he grew older, he was compelled to come back to his native country, a calling that allowed him to see that it isn't all that he has imagined, both for the good and bad.
This is one of the most surprising reads as of late; it is one of those books you go in expecting one thing and come out with a completely different understanding.  It granted me a rather in-depth glimpse of Afghani culture, one that I don't know that I would have experienced otherwise.  A wholly moving and captivating read, this one will have a lasting impact on my soul.
Thank you to TLC Book Tours for providing me the opportunity to take part in this tour!