I received this book for free from personal copy in exchange for an honest review. This does not affect my opinion of the book or the content of my review.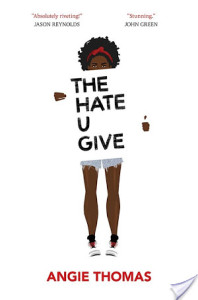 The Hate U Give by Angie Thomas
Published by HarperCollins on February 28, 2017
Genres: African American, People & Places, Prejudice & Racism, Social Themes, Young Adult Fiction
Pages: 464
Format: Hardcover
Source: personal copy

Sixteen-year-old Starr Carter lives two different lives.  First, she's Starr Carter, daughter of the local shop keeper who lives in the hood.  She's also the Starr Carter who attends a suburban prep school, one her parents chose to send her to to avoid the danger of going to public school closer to home.  Her friends at the prep school have no inclination of her life at home; she's one of two black students.  One of her closest friends has started to ignore her on social media; the content she posts is "too black" for her tastes.

The two worlds collide when Star witnesses the shooting of her childhood best friend, Khalil,at the hands of police.  The shooting instantly hits the news.  Though Khalil was unarmed, he's been labeled as a drug dealer and gang member. Protests line the streets.  Though Star was initially not identified as the sole witness to the shooting, her identity is eventually revealed and she and her family are victims of intimidation by not only the police, but a local drug lord.

Starr is the only individual with the knowledge to say what happened that night. He's in a constant battle about how much to share.  Is her own safety more important than the memory and reputation of her childhood friend?
I knew I had to own this book the moment I read about it.  Though this is a young adult novel, this is a book that MUST be read by people of all ages.  Starr's experience mirrors much of what we have seen on the news.  Thomas gives us a glimpse of what transpires beyond the news, with the family and friends of those that fall victim to such events.  She uses fiction to showcase a world that is all too real, a world that many would rather ignore than embrace and deal with reality.
As a mother of two African American boys, my husband and I have instilled in them the advice that Starr's friends and family shared when it comes to being pulled over by police: place your hands on the steering wheel, speak with respect, do what they say, do not move unexpectedly.  It angers me tremendously that this is the sort of thing we have to teach our children, boys of brown skin.  I never had to face this as a child; I grew up as your typical, suburban white girl. That entire generations of children had to be taught this, and continue to teach it,  for fear of losing their lives enrages me.
Despite the tragedy that looms throughout this novel, the message that stands out is resounding, one that goes beyond the Black Lives Matter movement that inspired it: black lives deserve the freedom, happiness and respect that so many of us have taken for granted.  This isn't a movement that should divide us, but one that should unite us.
This is the book that everyone is talking about, with good reason. Read it. Don't ignore it. It will change you, transform you. For those already experiencing these acts in their lives, it give voice and wings to the very things you've been pursuing your entire life.  Highly, highly recommended.