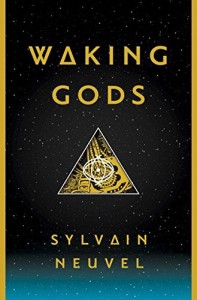 Waking Gods by Sylvain Neuvel
Series: The Themis Files
Also by this author: Sleeping Giants
Published by DELREY on April 4, 2017
Genres: Action & Adventure, Fiction, Science Fiction, Technological, Thrillers
Pages: 336
Format: Hardcover

As a young girl, Rose Franklin discovered something that would forever change the world's outlook on alien beings: she fell upon a giant metallic hand buried underground.  Since then, she's dedicated her life to studying it, and the rest of the pieces eventually discovered.

Her study is put on a dramatic halt when a second robot, far more massive than the first, suddenly appears in London.  At first, its lack of movement indicates peace yet, within seconds it lashes out with devastating and deadly force.

When others appear throughout the world, Rose and the rest of the team at the Earth Defense Corps realize they must become more familiar with the alien technology they have in their possession in order to save not only the country, but the entire planet.
Why yes, that is a very general summary of this book.  It was done intentionally, for there is SO MUCH learned and revealed in this second book.  I do recommend reading the first title, Sleeping Gods, first, however. Not only was it one of my favorite books the year it was released, it gives a phenomenal amount of back history and character development.
In this second title, so much is uncovered about the history behind these massive robots, specifically the one that was left on Earth centuries ago.  The purpose behind it, it's ties to modern civilization, is mind-blowing.
When I reviewed the first book, I commented on how this should be made into a movie.  The sheer volume of potential visual effects is overwhelming; I really do believe we need to witness this on the big screen.
Bottom line, this is a must read for fans of science fiction, apocalyptic fiction, or simply fans of truly phenomenal writing.  Highly, highly recommended.