We're coming to an end of my March preview posts! I don't know about you, but I'm excited to dig in!
Following are the titles releasing the last two weeks of March.
Our Short History by Lauren Grodstein (March 21):

Karen Neulander, a successful New York political consultant, has always been fiercely protective of her son, Jacob, now six. She's had to be: when Jacob's father, Dave, found out Karen was pregnant and made it clear that fatherhood wasn't in his plans, Karen walked out of the relationship, never telling Dave her intention was to raise their child alone.

But now Jake is asking to meet his dad, and with good reason: Karen is dying. When she finally calls her ex, she's shocked to find Dave ecstatic about the son he never knew he had. First, he can't meet Jake fast enough, and then, he can't seem to leave him alone.

With just a few more months to live, Karen resists allowing Dave to insinuate himself into Jake's life. As she tries to play out her last days in the "right" way, Karen wrestles with the truth that the only thing she cannot bring herself to do for her son–let his father become a permanent part of his life–is the thing he needs from her the most. With heart-wrenching poignancy, unexpected wit, and mordant humor, Lauren Grodstein has created an unforgettable story about parenthood, sacrifice, and life itself.

Egads, this one pulls at my heartstrings. Grodstein is an incredibly talented writer (author of A Friend of the Family).   I can tell this is one of those books that is going to have a lasting impact!
The Gargoyle Hunters by John Freeman Gill (March 21):

With both his family and his city fracturing, thirteen-year-old Griffin Watts is recruited into his estranged father's illicit and dangerous architectural salvage business. Small and nimble, Griffin is charged with stealing exuberantly expressive nineteenth-century architectural sculptures—gargoyles—right off the faces of unsung tenements and iconic skyscrapers all over town. As his father explains it, these gargoyles, carved and cast by immigrant artisans during the city's architectural glory days, are an endangered species in this era of sweeping urban renewal.
Desperate both to connect with his father and to raise cash to pay the mortgage on the brownstone where he lives with his mother and sister, Griffin is slow to recognize that his father's deepening obsession with preserving the architectural treasures of Beaux Arts New York is also a destructive force, imperiling Griffin's friendships, his relationship with his very first girlfriend, and even his life.
As his father grows increasingly possessive of both Griffin's mother and his scavenged touchstones of the lost city, Griffin must learn how to build himself into the person he wants to become and discover which parts of his life can be salvaged—and which parts must be let go. Maybe loss, he reflects, is the only thing no one can ever take away from you.

Ok, I can admit it: I was initially drawn to this story because of the family's salvage business. I'm kind of obsessed with television series involving salvaging and renovation.  That said, once I dug down deep into the premise of the title I was quickly drawn in to the meat of this novel…I can't wait to devour it!
Girl in Disguise by Greer MacCallister (March 21):

For the first female Pinkerton detective, respect is hard to come by. Danger, however, is not.

In the tumultuous years of the Civil War, the streets of Chicago offer a woman mostly danger and ruin—unless that woman is Kate Warne, the first female Pinkerton detective and a desperate widow with a knack for manipulation.

Descending into undercover operations, Kate is able to infiltrate the seedy side of the city in ways her fellow detectives can't. She's a seductress, an exotic foreign medium, a rich train passenger—all depending on the day and the robber, thief, or murderer she's been assigned to nab.

Inspired by the real story of Kate Warne, this spirited novel follows the detective's rise during one of the nation's greatest times of crisis, bringing to life a fiercely independent woman whose forgotten triumphs helped sway the fate of the country.

Independent woman? One of my favorite authors? Enough said.  Sold!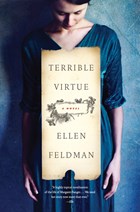 Terrible Virtue by Ellen Feldman (March 21): 

The daughter of a hard-drinking, smooth-tongued freethinker and a mother worn down by thirteen children, Margaret Sanger vowed her life would be different. Trained as a nurse, she fought for social justice, eventually channeling her energy to one singular cause: legalizing contraception. It was a battle that would pit her against puritanical, patriarchal lawmakers; send her to prison again and again; force her to flee to England; and ultimately change the lives of women across the country and around the world.

This complex, enigmatic revolutionary was at once vain and charismatic, generous and ruthless, sexually impulsive and coolly calculating—a competitive, self-centered woman who championed all women, a conflicted mother who suffered the worst tragedy a parent can experience. From opening the first illegal birth control clinic in America in 1916 through the founding of Planned Parenthood to the arrival of the Pill in the 1960s, Margaret Sanger sacrificed two husbands, three children, and scores of lovers in her fight for sexual equality and freedom.

Talk about a timely read. I don't think I need to explain my strong desire to read this one!
The Cutaway by Christina Kavoc (March 21):

The Cutaway draws you into the tangled world of corruption and cover-up as a young television producer investigates the disappearance of a beautiful Georgetown lawyer in this stunning psychological thriller, perfect for fans of Paula Hawkins and Gillian Flynn.

When brilliant TV news producer Virginia Knightly receives a disturbing "MISSING" notice on her desk related to the disappearance of a beautiful young attorney, she can't seem to shake the image from her head. Despite skepticism from her colleagues, Knightly suspects this ambitious young lawyer may be at the heart of something far more sinister, especially since she was last seen leaving an upscale restaurant after a domestic dispute. Yet, as the only woman of power at her station, Knightly quickly finds herself investigating on her own.

Risking her career, her life, and perhaps even her own sanity, Knightly dives deep into the dark underbelly of Washington, DC business and politics in an investigation that will drag her mercilessly through the inextricable webs of corruption that bind the press, the police, and politics in our nation's capital.

You would think I selected this one due to its comparisons to Gillian Flynn.  Rather, I'm excited to read it based on the setting and the author's background in television journalism (she worked for Tim Russert!)
A Simple Favor by Darcey Bell (March 21):

It starts with a simple favor—an ordinary kindness mothers do for one another. When her best friend, Emily, asks Stephanie to pick up her son Nicky after school, she happily says yes. Nicky and her son, Miles, are classmates and best friends, and the five-year-olds love being together—just like she and Emily. A widow and stay-at-home mommy blogger living in woodsy suburban Connecticut, Stephanie was lonely until she met Emily, a sophisticated PR executive whose job in Manhattan demands so much of her time.

But Emily doesn't come back. She doesn't answer calls or return texts. Stephanie knows something is terribly wrong—Emily would never leave Nicky, no matter what the police say. Terrified, she reaches out to her blog readers for help. She also reaches out to Emily's husband, the handsome, reticent Sean, offering emotional support. It's the least she can do for her best friend. Then, she and Sean receive shocking news. Emily is dead. The nightmare of her disappearance is over.

Or is it? Because soon, Stephanie will begin to see that nothing—not friendship, love, or even an ordinary favor—is as simple as it seems.

A Simple Favor is a remarkable tale of psychological suspense—a clever and twisting free-fall of a ride filled with betrayals and reversals, twists and turns, secrets and revelations, love and loyalty, murder and revenge. Darcey Bell masterfully ratchets up the tension in a taut, unsettling, and completely absorbing story that holds you in its grip until the final page.

I can't get enough of twisty, psychological thrillers, it seems!
The Woman in the Castle by Jessica Shattuck (March 28):

Amid the ashes of Nazi Germany's defeat, Marianne von Lingenfels returns to the once grand castle of her husband's ancestors, an imposing stone fortress now fallen into ruin following years of war. The widow of a resistor murdered in the failed July, 20, 1944, plot to assassinate Adolf Hitler, Marianne plans to uphold the promise she made to her husband's brave conspirators: to find and protect their wives, her fellow resistance widows.

First, Marianne rescues six-year-old Martin, the son of her dearest childhood friend, from a Nazi reeducation home. Together, they make their way across the smoldering wreckage of their homeland to Berlin, where Martin's mother, the beautiful and naïve Benita, has fallen into the hands of occupying Red Army soldiers. Then she locates Ania, another resistor's wife, and her two boys, now refugees languishing in one of the many camps that house the millions displaced by the war.

As Marianne assembles this makeshift family from the ruins of her husband's resistance movement, she is certain their shared pain and circumstances will hold them together. But she quickly discovers that the black-and-white, highly principled world of her privileged past has become infinitely more complicated, filled with secrets and dark passions that threaten to tear them apart. Eventually, all three women must come to terms with the choices that have defined their lives before, during, and after the war—each with their own unique share of challenges.

Written with the devastating emotional power of The Nightingale, Sarah's Key, and The Light Between Oceans, Jessica Shattuck's evocative and utterly enthralling novel offers a fresh perspective on one of the most tumultuous periods in history. Combining piercing social insight and vivid historical atmosphere, The Women in the Castle is a dramatic yet nuanced portrait of war and its repercussions that explores what it means to survive, love, and, ultimately, to forgive in the wake of unimaginable hardship.

Even before my book club won copies of this title, I knew I wanted to read it.  Historical fiction has long been one of my favorite genres; this title exemplifies everything I look for in this genre!
That does it! This concludes my most anticipated books of March series.  What did you think? Did you discover any new books? Were there any I left out?