Yesterday, I shared the books releasing the first week of March I'm most excited about.  Brace your wallets, I have more! Following are the books releasing the second week of March!
One of the Boys by Daniel Magariel (March 14):

The three of them—a twelve-year-old boy, his older brother, their father—have won the war: the father's term for his bitter divorce and custody battle. They leave their Kansas home and drive through the night to Albuquerque, eager to begin again, united by the thrilling possibility of carving out a new life together. The boys go to school, join basketball teams, make friends. Meanwhile their father works from home, smoking cheap cigars to hide another smell. But soon the little missteps—the dead-eyed absentmindedness, the late night noises, the comings and goings of increasingly odd characters—become sinister, and the boys find themselves watching their father change, grow erratic, then violent.

Set in the sublimely stark landscape of suburban New Mexico and a cramped apartment shut tight to the world, One of the Boys conveys with stunning prose and chilling clarity a young boy's struggle to hold onto the dangerous pieces of his shattered family. Harrowing and beautiful, Daniel Magariel's masterful debut is a story of survival: two foxhole-weary brothers banding together to protect each other from the father they once trusted, but no longer recognize.

Yeah, this one does sound dark. That said, the whole family secret thing has my attention. 
Himself by Jess Kidd (March 14): 

Having been abandoned on the steps of an orphanage as an infant, lovable car thief and Dublin charmer Mahony assumed all his life that his mother had simply given him up. But when he receives an anonymous note suggesting that foul play may have led to his mother's disappearance, he sees only one option: to return to the rural Irish village where he was born and find out what really happened twenty-six years ago.

From the moment he sets foot in Mulderrig, Mahony's presence turns the village upside down. His uncannily familiar face and outsider ways cause a stir among the locals, who receive him with a mixture of excitement (the women), curiosity (the men), and suspicion (the pious).

Determined to uncover the truth about what happened to his mother, Mahony solicits the help of brash anarchist and retired theater actress Mrs. Cauley. This improbable duo concocts an ingenious plan to get the town talking about the day Mahony's mother disappeared and are aided and abetted by a cast of eccentric characters, both living and dead.

Himself is a simmering mixture—a blend of the natural everyday and the supernatural, folklore and mystery, and a healthy dose of quintessentially Irish humor. The result is a darkly comic crime story in the tradition of a classic Irish trickster tale, complete with a twisting and turning plot, a small-town rife with secrets, and an infectious love of language and storytelling that is a hallmark of the finest Irish writers.

Ok, so this title has a mixture of so many things I love.  Family secrets.  A hint of supernatural. Crime. Sold.
The Fall of Lisa Bellow (March 14): 

What happens to the girl left behind?

A masked man with a gun enters a sandwich shop in broad daylight, and Meredith Oliver suddenly finds herself ordered to the filthy floor, where she cowers face to face with her nemesis, Lisa Bellow, the most popular girl in her eighth grade class. The minutes tick inexorably by, and Meredith lurches between comforting the sobbing Lisa and imagining her own impending death. Then the man orders Lisa Bellow to stand and come with him, leaving Meredith the girl left behind.

After Lisa's abduction, Meredith spends most days in her room. As the community stages vigils and searches, Claire, Meredith's mother, is torn between relief that her daughter is alive, and helplessness over her inability to protect or even comfort her child. Her daughter is here, but not.

My background in psychology and criminal justice has me fascinated with this; one of the reasons I wanted to study these two disciplines was to not only get inside the mind of a perpetrator, but a victim as well. This sounds absolutely phenomenal.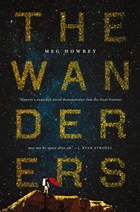 The Wanderers by Meg Howrey (March 14):

In an age of space exploration, we search to find ourselves.

In four years Prime Space will put the first humans on Mars. Helen Kane, Yoshihiro Tanaka, and Sergei Kuznetsov must prove they're the crew for the job by spending seventeen months in the most realistic simulation ever created.

Retired from NASA, Helen had not trained for irrelevance. It is nobody's fault that the best of her exists in space, but her daughter can't help placing blame. The MarsNOW mission is Helen's last chance to return to the only place she's ever truly felt at home. For Yoshi, it's an opportunity to prove himself worthy of the wife he has loved absolutely, if not quite rightly. Sergei is willing to spend seventeen months in a tin can if it means travelling to Mars. He will at least be tested past the point of exhaustion, and this is the example he will set for his sons.

As the days turn into months the line between what is real and unreal becomes blurred, and the astronauts learn that the complications of inner space are no less fraught than those of outer space. Probing just how well we can ever know ourselves, or hope to know somebody else, The Wanderers gets at the heart of what it means to be human—even when we're millions of miles from home.

Ok, read that summary and tell me it doesn't sound amazing!?
Traveler's Rest by Keith Lee Morris (March 14):

A chilling fable about a family marooned in a snowbound town whose grievous history intrudes on the dreamlike present.

The Addisons-Julia and Tonio, ten-year-old Dewey, and derelict Uncle Robbie-are driving home, cross-country, after collecting Robbie from yet another trip to rehab. When a terrifying blizzard strikes outside the town of Good Night, Idaho, they seek refuge in the town at the Travelers Rest, a formerly opulent but now crumbling and eerie hotel where the physical laws of the universe are bent.

Once inside the hotel, the family is separated. As Julia and Tonio drift through the maze of the hotel's spectral interiors, struggling to make sense of the building's alluring powers, Dewey ventures outward to a secret-filled diner across the street. Meanwhile, a desperate Robbie quickly succumbs to his old vices, drifting ever further from the ones who love him most. With each passing hour, dreams and memories blur, tearing a hole in the fabric of our perceived reality and leaving the Addisons in a ceaseless search for one another. At each turn a mysterious force prevents them from reuniting, until at last Julia is faced with an impossible choice. Can this mother save her family from the fate of becoming Souvenirs-those citizens trapped forever in magnetic Good Night-or, worse, from disappearing entirely?

With the fearsome intensity of a ghost story, the magical spark of a fairy tale, and the emotional depth of the finest family sagas, Keith Lee Morris takes us on a journey beyond the realm of the known. Featuring prose as dizzyingly beautiful as the mystical world Morris creates, TRAVELERS REST is both a mind-altering meditation on the nature of consciousness and a heartbreaking story of a family on the brink of survival.

Twisty. Spooky. Yep, my cup of tea!
Can you believe I still have more titles to share!? March is a great month for books!