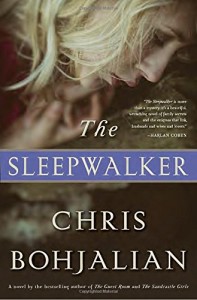 The Sleepwalker by Chris Bohjalian
Also by this author: The Guest Room
Published by Doubleday Books on January 10, 2017
Genres: Fiction, Psychological, Romance, Suspense, Thrillers
Pages: 416

When her daughters awake to find their mother, Annalee Ahlberg, missing, they immediately concerned.  Annalee suffers from a severe case of sleepwalking; the severity of which is rare and alarming.  Typically, the damage done is minimal, including damage to the family's hydrangeas. Yet, on one occasion, her adult daughter, Lianna, finds her mere moments before she falls off the bridge into the river.

Their father, Warren, flies home from a business trip.  Lianna and her teen sister, Paige, are questioned by the police. A search team scours the woods near their home. The only evidence is a swatch of fabric from Annalee's nightshirt, found hanging from a tree branch.  Most assume she is dead, yet one of the detectives, Gavin Rikert, is unable to let go of hope. Lianna is drawn to Gavin, for he has a strange connection to her mother.

As the investigation continues, Lianna uncovers a great deal about her mother's ailment, including the reasons why she only seems to sleepwalk when her husband is away.  Succumbed to the fact her mother has died, the family struggles to trace her steps that final night, no matter the consequences.
While I'm aware of parasomnia, or sleepwalking, I don't suppose I was quite as familiar with its severity or symptoms. Without relaying too much of the plot, Bohjalian digs deep into this sleep disorder and the various versions of its manifestations.
This novel, at its heart, is not only the mystery of a woman's disappearance, but the uncovering of family secrets left buried or hidden, for the sake of protecting the ones they held so dear. The author takes the reader on a whirlwind of a experience, leading us down wavering paths that we believe lead to answers.  Just when you think you have it all figured it out, the truth is revealed, one that completely took me off guard.
Though there are aspects of this novel that are graphic and hard to read, the author uses this technique not for shock and awe, but to provide a true and genuine experience.  The story is told from two perspectives: Lianna's and an unknown individual, whose perspective is told through a series of journal entries.  The reader is kept in the dark about this individual's identity, leaving us to question just who to trust.
All in all, this was a completely engaging, informative, and yes, heartbreaking read.  This was my last read of 2016, my first review of 2017.  Thank you, Chris Bojalian, for setting the bar high!