During April's Read-a-thon, I decided I wanted to read for a charity.  That charity was Books For Soldiers, a non-profit corporation who provides books to American soldiers deployed overseas.  I pledged to donate $5 per book I read.  I read five books and a gracious friend of mine matched my donations.  Therefore, I was able to donate $50 to this cause.
For this round of the read-a-thon, I couldn't decide which charity to read for.  So, I'm picking two: First Book and Reading is Fundamental.  Following is some information about each of these charities.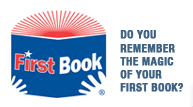 Mission: First Book provides new books to children in need addressing one of the most important factors affecting literacy – access to books.
Inspiration: Kyle Zimmer, a corporate lawyer by day, tutored children at an inner-city soup kitchen by night. She discovered that the children she tutored had no books to read. That year, Kyle left her day job, and she and two friends founded First Book to provide new books and resources to the children who needed them the most. They delivered 12,000 books to local communities in the Washington DC area the first year.
Motivation: Kyle discovered that fully 80% of preschool and after-school programs serving low-income populations have no age-appropriate books for the children they serve. Millions of children spend thousands of hours every week in programs and schools that are starving for resources necessary to improve educational quality.
Empowerment: By providing new books to children in preschools and after-school programs, mentoring and tutoring programs, shelters and day care centers and beyond, First Book provides resources to empower teachers and administrators. With access to high-quality books, educational materials and more, these caring leaders can better teach, plan curriculum and impart a love of learning, elevating the quality of the programs and opportunities available to children in need.
Achievement: Now, nearly 20 years later, First Book has delivered more than 65 million books to programs serving children in need across the United States and Canada. Learn more about the honors and awards received by First Book.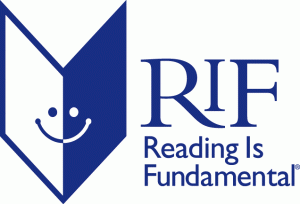 Reading Is Fundamental, Inc. prepares and motivates children to read by delivering free books and literacy resources to those children and families who need them most.
Founded in 1966, RIF is the oldest and largest children's and family nonprofit literacy organization in the United States. RIF's highest priority is reaching underserved children from birth to age 8. Through community volunteers in every state and U.S. territory, RIF provides 4.5 million children with 16 million new, free books and literacy resources each year. 
All RIF programs combine three essential elements to foster children's literacy: reading motivation, family and community involvement, and the excitement of choosing free books to keep.
RIF's accomplishments are due in part to the generous support of the U.S. Department of Education, corporations, foundations, community organizations, and thousands of individuals.
Do you see why it was impossible for me to choose between these two charities!? 
For each book I read, I will donate $5 to each of these charities. While I'm not openly soliciting people to pledge me, if you would like to, please send me an email (jennsbookshelfATgmailDOTcom) or post a comment below.