This past Saturday, my boys pulled out their Star Wars costumes and dressed up to attend the release party of LEGO Star Wars: The Visual Dictionary
at one our local Borders. My oldest son dressed as a Storm Trooper and my youngest was a Jedi.
The party was fabulous! We only stayed for about an hour, but the boys had a blast nonetheless.  There was a LEGO Star Wars trivia game, and picture opportunities with Storm Troopers, a TIE fighter pilot, and Darth Vader himself.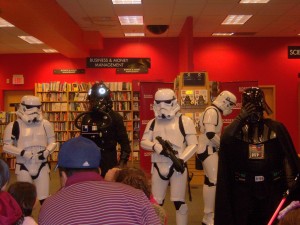 Well, both of my boys decided to challenge Vader to a battle.  My oldest son's battle is pictured below.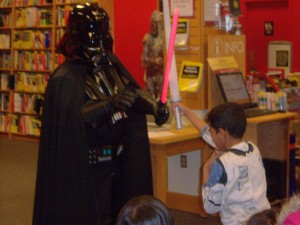 Unfortunately, due to the crowd, I was unable to get a picture of my youngest son's duel.  I can say he had an unfair advantage.  Due to his height, he was able to aim a little low!
There were a few professional photographers at the event. Pictures of my boys fighting Vader should be posted on a Lego blog in the near future.  As soon as I track it down, I will be sure to post those as well!
Needless to say,we had a blast!  Thanks to Borders and DK Books for this great event!
*Edit: I found the Lego blog post and found another picture of my son fighting Darth Vader!